At a single glance, the pictogram makes it easy to identify the weight and distribution of the load on the truck.
The weight is shown in gross or net mass, and converted to the unit of your choice (kg, lbs or ton). The pictograms of popular trucks are available in the device's memory. Picture yourself performing an inspection using a pictogram. Simple and easy. This unit is the tool of choice for performing well remotely, with a margin of error below 0.01. It allows you to display 12 channels. This is very useful if your truck is made up of several semi-trailers and axle systems.
This portable onboard loader scale displays real-time data within a distance of 1000 m (3200 ft) from your truck. Just imagine the incredible freedom of movement. This is particularly useful when load control is performed outside the cab. This small device easily fits into your pocket. It also comes with a protective cover.
The Sentinel is designed for all types of spring or air suspension vehicles. It is also easy and fast to install since there is no wiring.  Onboard units are powered by the vehicle. There are therefore no batteries to charge, allowing for cost savings and instant display.
The Sentinel onboard loader scale is the #1 choice for fleets. Through the automated recognition of other units, the new semi-trailer can be connected without having to manually enter the address. This feature allows you to swap an endless number of semi-trailers, hands-free.
You can also print out load data using a wireless printer. The print command can be given from inside or outside the vehicle. You can also transmit data using a wireless RS232 connection to an onboard computer.
It is also possible to transform your Sentinel into a loader scale. In addition to being able to view your load weight right in the palm of your hand, the person inside the loader can also see the load weight on his own device. This second display device allows the loader operator to maximize the load and to ensure its proper distribution. This is far better than conventional bucket loader scales that do not assess load distribution and slow down operations. The Sentinel onboard loader scale thus serves as a highly effective bucket loader scale, for a fraction of the cost of its conventional counterpart.
Download file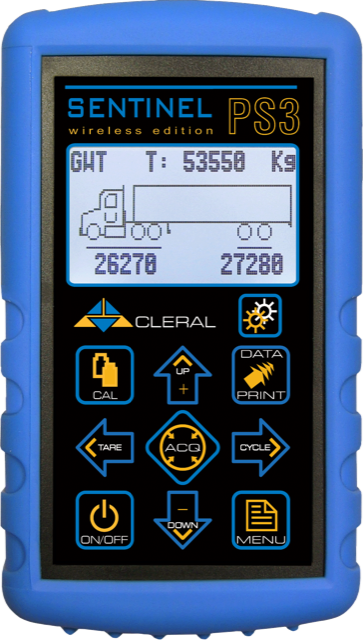 Avantages
Very competitive price
Margin of error less than 0.01
Installs on all suspensions
Do not modify the vehicle
Installation is fast and simple
Easy to use and calibrate
Simultaneous display of weights per channel and total
Small monitor (cm X cm X cm)
Unit of measure (Kilogram, Pound and Ton)
Displays up to 12 channels
Virtual channel for steering axles or axel tag
Cargo weight displayed in gross or net